Is Teaching Adults English Easier Than Kids?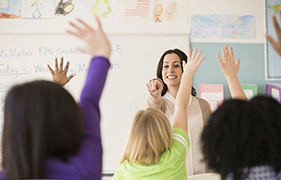 Teaching English as a foreign language (TEFL jobs) is one of the most trendings jobs in the market. A certificate in TEFL will make you eligible to apply for TEFL jobs. Adults, young learners, and kids of non-speaking English nations often opt for classes where they learn English as a foreign language. Have you ever wondered how is teaching adults different than teaching English to children? While planning for a career as a TEFL teacher have you dreamt of teaching a foreign language to adults or kids, or a mixed batch?

You must be aware of every detail of teaching English abroad. Some countries have academic institutions where the majority of the learners are adults whereas it is just the opposite in some other countries. Being an English teacher you must learn techniques to teach the kind of batch you want to.

It is because the tactics you're planning to apply for kids while teaching is supposed to be different for adult learners. Your teaching career and teaching experience will matter a lot based on your teaching practice. This article will give you a thorough analysis of the factors you should consider before choosing a TEFL job.
Teaching English to kids:
The most important thing that you have to remember before teaching kids and young learners is that you require to have a lot of patience. The lesson plan for children should be easy so that they can adapt to it easily. Teaching teens and kids are somewhat quite energetic and they always love fun-based learning sessions. Therefore, if you can chalk out interesting strategies, your experience as a teacher will be great and your students will love you a lot.

Children are always enthusiastic to learn new things and hence you can always try energetic, and funny games for them. Teens, on the other hand, are kind of shy to learn a new language because they are afraid of making wrong pronunciation in front of the whole class. Thus, they need constant motivation and support so that they can break the shackle of fear.
PLACES WHERE YOU CAN GET OPPORTUNITIES TO TEACH ENGLISH TO TEENS AND KIDS:
Asian and European countries mostly hire TEFL-qualified teachers to teach English to teens and kids.China, South Korea, Japan, and Thailand are the most significant nations where you can try teaching jobs as English teachers. Many European countries also recruit both native and non-native English speakers to teach children in their academic institutions.

In order to teach English as a foreign language, you need to have a mandatory 120 hours TEFL/TESOL certification. If you have an Advanced certification or a Diploma in TEFL/TESOL you might be preferred more than others. Having a teaching experience will always give you added perks.

Some educational institutions also hire English teachers to teach online. You can have a specialization like TEFL young learners certification course and that will strengthen your resume. You can always try interactive games, ESL songs, and other digital tools to teach your students.
Teaching English to adults:
If you feel like teaching kids is not your cup of tea, then you always have the option of teaching adults. A 120 hour TEFL certification, or an Advanced or Diploma in TEFL will make you eligible for teaching English to adults. You can get added perks if you have prior teaching experience.

It has been observed that adult learners are mostly business professionals. That is why having a TEFL specialization in Business English will boost your resume to the next level. Adult learners are can be taught online as well because there are many institutions that hire English-speaking teachers to teach them. One of the best advantages of teaching adults is that you do not have to focus on class management.

Adults are well aware of how to behave inside a classroom and hence teachers do not have to spend much time teaching them etiquette and disciplines. Besides, they come from various professional backgrounds and a lot of interesting topics can be discussed. ESL teachers can enjoy a cross-culture session while teaching adult learners.
WHERE CAN YOU TEACH ENGLISH TO ADULTS:
Central and South American countries recruit TEFL teachers to teach business professionals English as a foreign language. Costa Rica, Chile, Brazil, and Argentina hire a notable quantity of teachers for teaching adults. Besides, Middle East countries like UAE, Saudi Arabia, and Oman also give opportunities to TEFL qualified teachers to teach adults in their academic institutions.

You can also teach adults as a freelancer. It is one of the popular ways how TEFL teachers can choose the genres which will suit their potential the most. They can teach at an hourly rate basis as well. Many organizations appoint English-speaking teachers to teach English to their employees online. That is a great opportunity because that you do not have to travel abroad to teach them.

When it comes to classroom sessions, some organizations prefer that TEFL teachers should have a little bit of business background as well. For example, if you are planning for teaching Marketing specialists, it is preferable to have a specialization or course in Marketing. You will be given more preference if you're having prior teaching experience when it comes to classroom session teaching.

So, everything about teaching English to adults and kids is being mentioned over here. If you are having a certificate in TEFL, high quality of knowledge in English, and a Bachelor's degree then you can get the opportunity to teach English as a foreign language abroad. Hence, good luck!